Losani Named Best Managed Company in 2023
---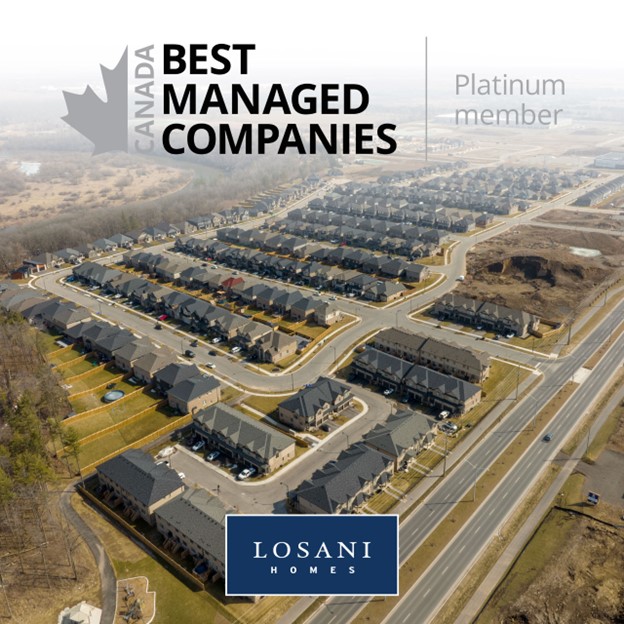 2023-05-09
Toronto, Ontario (Tuesday, May 9th, 2023) – Losani Homes was recognized for its industry-leading practices and its sustained growth in achieving Canada's Best Managed Companies Platinum Club status in 2023. This is the 17th year that Losani Homes has been named one of Canada's Best Managed Companies and its 10th consecutive year of achieving the prestigious Platinum Club status.
Celebrating its 30th Anniversary, Canada's Best Managed Companies program awards excellence in private Canadian-owned companies. To attain the designation, companies are evaluated on their leadership in the areas of strategy, culture, commitment, capabilities innovation, governance, and financial performance.
Losani Homes has been guided by the spirit and vision of founder, Giovanni Losani whose motto has always been, "Be honest and give the people what they deserve."
"We're extremely proud to recognize the impressive achievements of companies such as Losani Homes in this, particularly rapidly evolving business world," said Derrick Dempster, Partner at Deloitte Private and co-leader for Canada's Best Managed Companies Program. "Their successes demonstrate the importance of strong leadership and forethought in driving long-term growth."
"It has become increasingly important for businesses to foster collaborative workplaces where employees are empowered to make valuable contributions to their organizations," said Lorrie King, Partner, Deloitte Private, and Co-Leader, of Canada's Best Managed Companies Program. "This year's Best managed winners, including Losani Homes, embrace a people-first mentality enabling employees to cultivate important capabilities and integrating diversity, equity, and inclusion initiatives into their core strategy. By prioritizing employee wellbeing and championing professional development, these companies are harnessing their talent pool's fullest potential and are in a stronger position to attract the talents needed to embrace the opportunities and challenges that lie ahead."
"To merit Platinum status as one of Canada's Best Managed Companies for the past 10 years and to be recognized as Canada's Best for 17 years is an indication of the long-term successes throughout the Losani Homes organization. This award recognizes what we do to best serve our customers and communities while displaying excellence and consistency every single year," said Fred Losani, CEO of Losani Homes.
Losani Homes take great pride in the work that they do as a homebuilder and business leader in Hamilton and surrounding communities. Losani Homes has also been very committed to helping communities and organizations in need of support either financially or otherwise. Donations through the Losani family, Losani Homes, and the Losani Family Foundation have significantly impacted Hamilton, Brantford, Paris, Grimsby, and the Niagara region as well as in impoverished regions of the global south.
"Losani Homes has a strong moral conscience, as we engage our communities through our charitable endeavours. This is possible because of our financial success and our strong team. It is because of the collective efforts of many that Losani Homes continues to make a difference," said Fred Losani.
About Canada's Best Managed Companies Program
Canada's Best Managed Companies program continues to be the mark of excellence for privately-owned Canadian companies. Every year since the launch of the program in 1993, hundreds of entrepreneurial companies have competed for this designation in a rigorous and independent process that evaluates their management skills and practices. The awards are granted on four levels: 1) Canada's Best Managed Companies new winner (one of the new winners selected each year); 2) Canada's Best Managed Companies winner (award recipients that have re-applied and successfully retained their Best Managed designation for two additional years, subject to annual operational and financial review); 3) Gold Standard winner (after three consecutive years of maintaining their Best Managed status, these winners have demonstrated their commitment to the program and successfully retained their award for 4-6 consecutive years); 4) Platinum Club member (winners that have maintained their Best Managed status for seven years or more). Program sponsors are Deloitte Private, CIBC, The Globe and Mail, Salesforce, and TMX Group. For more information, visit www.bestmanagedcompanies.ca.
---
---