Central Park From A Bird's Eye View
---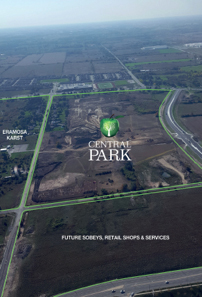 2016-11-05
Flying high above Central Park and the neighbouring Eramosa Karst Conservation Area demonstrates the natural wonder of this master-planned community with four unique neighbourhoods.
"We drew a parallel between New York City's Manhattan with its distinct, character-filled neighbourhoods, as well as New York's Central Park, with our own community with its various neighbourhoods. This is how the concept for Hamilton's Central Park was born," comments Fred Losani, CEO.
With 15 acres of naturalized greenspace, including a park, pond and eco-trail promenade, residents will really be connected with nature. The promenade is the final connection in the 10km East Mountain Trail Loop. Residents will be able to easily access the Eramosa Karst trails, Valley Park, Bruce Trail and Albion Conservation Area right from their community via the promenade. The community parkland will be furnished and outfitted with a lot of the same structures in New York City's Central Park, including a pavilion, play rings, carousel trellis, light standards, bollards, entry features and benches.
Losani Homes is proud that this community is Hamilton's first comprehensive fully accessible community. Within the single family homes and low rise structures the builder allows the opportunity to make it fully handicap accessible, including the installation of elevators. With the mid-rise product, the same opportunities with elevator accessibility and handicap accessible units will be available. Many of the trails systems are paved, offering over 10km of trails that everyone can enjoy, despite mobility issues. Everyone at Central Park will have the opportunity to enjoy nature right outside their front door.
From the air, you are able to see the expansiveness of the community, which will bring more than 1,100 homes to Hamilton Mountain. The first neighbourhood, Park Avenue, is set to release this month. Park Avenue will feature modern, freehold townhomes, as well as detached homes on 33'-50' lots in three desirable elevations: Tuscan, Chateau and Modern. Future neighbourhoods such as Soho, featuring 6 mid-rise condominium buildings, Midtown, featuring 2 mid-rise condominium buildings and urban towns and Madison, offering 3-storey urban towns, will follow.
To take advantage of the opportunity to be a Central Park VIP, register at www.MyCentralPark.ca.
---
---