A Day Filled of Love ... A Love Story of our Park Avenue Homeowners
---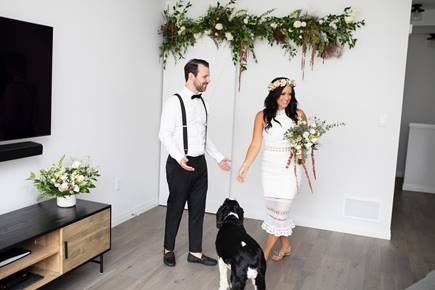 2020-08-06
In reflecting on the past week, we just wanted to say "THANK YOU" to Losani for all of your assistance in creating a special place for us (our home in Central Park), in which we recently got married.
When the world turned upside down in March with the pandemic we, like many other couples who had a wedding planned for this summer had to make a decision to postpone or carry on with our ceremony. This wasn't a hard decision for us knowing we wanted to continue on with our life and keep our original wedding date of July 24th, 2020. One evening sitting in our 4 month old home with our two kittens and dog we came up with the idea of saying our vows in our family room. This was special to us because it was our first home together and we were able to include our pets. Both being teachers, we spent a lot of time during the pandemic in our new "office" being the beautiful kitchen & family room. Within a few months we learnt we would be able to have our immediate families present and as soon as our officiant said he was on board we started to come up with our new plan. Although we had to change our venue, we were able to keep with our same wedding date. Once restrictions were lifted, Losani employees were there to assist us. They were happy to come in and touch up the paint on the walls and help to prepare our home for what was undoubtedly the best day of our lives.
With all that was going on in the world during the last four months and the many ups and downs we were faced with while trying to re-plan our wedding, we feel truly blessed to have our beautiful home. The employees at Losani were helpful and made any preparations for our in-home wedding stress free. Thank you for providing us with the foundation of our very special day!
Ashley & Ryan Movre
---
---